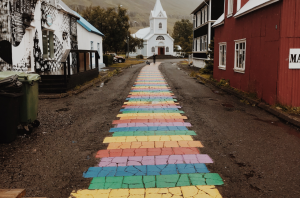 Þetta reddast! – which in Icelandic means "we will make it/we will succeed!"
"You could say that Iceland is not a very bureaucratic country compared to Poland. Complex forms, lengthy applications, and lots of paperwork are not things your partners will like.
Icelanders like to gather and exchange thoughts and ideas, but they don't like complicated procedures.
Do not expect stiff, showcase presentations and official welcoming ceremonies.
Official and show academies organized with precision from A to Z are not in Icelanders' nature."
These are some observations regarding cooperation with Icelanders made by Donata Honkowicz-Bukowska – a Polish language teacher and educational and multicultural advisor in primary schools in Kópavogur, Iceland.
Icelandic CSOs play a crucial role in moving along development and aiding authorities in achieving their goals of peace, democracy, good governance, health, prosperity and equality.
Civil society organizations in Iceland:
are free to criticize the government without fear of repercussions
have long-standing experience working together
share aims and added impact (in particular the Women's Movement)
are funded: mostly from government funds but also by membership fees, grants, donations etc.
work with the government to achieve common aims and objectives
are professional
offer researched and well-grounded information and advice to the government on issues of concern
are active in campaigning and advocating for necessary changes
are vigilant in monitoring and pointing out issues in need of address.
Examples of Icelandic organizations:
LBGTI organisation
Association of intellectual disabilities
The Women's Shelter
Stígamót, Counselling and information centre on sexual violence
Icelandic Scouts
Icelandic Red Cross
WOMEN in Iceland
The Women's Counselling
ÖBÍ- Association of Disabled in Iceland
The Women's Federation of Iceland
The Icelandic Women's Rights Association
The Mental Health Alliance
Save the Children – Iceland
The Child Safety House
The Federation of Senior Citizens
Multicultural and Information Center
Reykjavík City Human Rights Office
The Directorate of Equality (govt institution)
The Children's Ombudsman (govt institution)
The Federation of Senior Citizens
Multicultural and Information Center
Reykjavík City Human Rights Office
The Directorate of Equality (govt institution)
The Children's Ombudsman (govt institution)